2020 -
a completely
different year
We wish you a (hopefully) happy new year.
Many things changed for us during 2020, but we are still ok in our little yellow house.
Here are a few snapshots from "our year".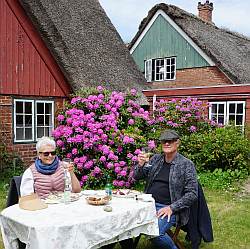 We did not travel much. Here we are on Fanø, a beautiful small island close to Germany.
Another trip took us to Lübeck for a few days. This was our first time to wear a "mask".
Now we do it every day.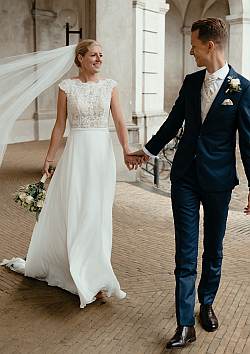 Anna-Lucie and Christoffer got married . They had to postpone it for nine weeks. Three days after the wedding party Denmark was "closed down again".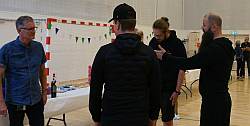 Peters farewell party at Campus Carlsberg took place in the biggest gym hall to make sure that there would be enough distance between the invited collegues/friends. Many came and the whole "scenery" looked a bit funny due to the huge room.



Peter visit "the old village of Fyn" with Julie and her kids!

Clara, the youngest of our eight
grandchildren, is now one year old.

All our kids are doing fine with no big changes in their lives. Nikolaj, who recently finished his Pharmacy study, got a job at Novo Nordisk. (A big pharmaceutical company with headquarters nearby.) Exactly what he hoped for.


Both of us have stopped working this year.
Now that we are both at home, we spend much more time together - and we are doing fine.
New habbits appear.
Annette is spending more time with the grand-children via Facetime and phone. During all the restrictions like hometeaching and lack being with friends, they really like the several daily chats.
Annette do more writing and more baking too. All the ryebread we eat, is homemade now.
When the weather is ok we both do work in the garden. We enjoy the garden more than we enjoy the work there. :-)
We also sing and play guitar more often.
Annette is visiting Marie, Jacob and the four grandchildren in Apperup during Easter. Outdoors of course.
We visit very few people and they are among the few we see. We also celebrated Christmas Evening with them.

We have had quite a few visitors in our own garden when the wheater allowed it. A good way of meeting during 2020.

Peters old rockbands Cottage "Hotel New Hampshire" was sold after 37 years. We were lucky, as we sold it right after nobody was allowed to go on holiday abroad. It was sold quickly at a good price. We heard that 1100 summerhouses were sold the same month in our little country, and it was not even spring yet.

Now that Peter is a pensioner, a lot of time is spend in the guitar workshop. Luckily many people come here to have their guitars repaired.

The band only had one gig during 2020. Peter and two bandmembers played at a private Silver wedding celebration at the Knight's Hall at Dragsholm Castle. (A Michelin restaurant.) Slightly more "upscale" surroundings than usual.


Again we wish you a happy new year. We have decided
that 2021 is going to be a better year for everybody


Love from Annette and Peter
Kongens Lyngby, January 2021